Название:
Computing Handbook, 3rd Edition: Computer Science and Software Engineering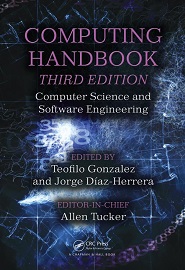 Автор: Jorge Díaz-Herrera, Teoflo Gonzalez
Год: 2014
Издательство: Chapman and Hall/CRC
ISBN: 978-1439898529
Страниц: 2326
Language: English
Формат: PDF
Размер: 21 Mb
Описание: Computing Handbook, Third Edition: Computer Science and Software Engineering mirrors the modern taxonomy of computer science and software engineering as described by the Association for Computing Machinery (ACM) and the IEEE Computer Society (IEEE-CS). Written by established leading experts and influential young researchers, the first volume of this popular handbook examines the elements involved in designing and implementing software, new areas in which computers are being used, and ways to solve computing problems. The book also explores our current understanding of software engineering and its effect on the practice of software development and the education of software professionals. Like the second volume, this first volume describes what occurs in research laboratories, educational institutions, and public and private organizations to advance the effective development and use of computers and computing in today's world. Research-level survey articles provide deep insights into the computing discipline, enabling readers to understand the principles and practices that drive computing education, research, and development in the twenty-first century.
Мета теги:
3rd Edition: Computer Science and Software Engineering
Computer Science
Computing Handbook
Software Engineering