Название:
Effective Python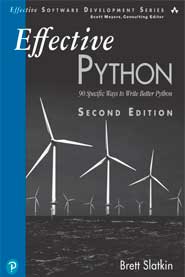 Author: Brett Slatkin
Year: 2020
Publisher: Addison-Wesley
ISBN 978-0-13-485398-7
Pages: 472
Language: Eng
Format: PDF
Size: 4 Mb
Content: It's easy to start developing programs with Python, which is why the language is so popular. However, Python's unique strengths, charms, and expressiveness can be hard to grasp, and there are hidden pitfalls that can easily trip you up.
This second edition of Effective Python will help you master a truly "Pythonic" approach to programming, harnessing Python's full power to write exceptionally robust and well-performing code.
Using the concise, scenario-driven style pioneered in Scott Meyers' best-selling Effective C++, Brett Slatkin brings together 90 Python best practices, tips, and shortcuts, and explains them with realistic code examples so that you can embrace Python with confidence.
Drawing on years of experience building Python infrastructure at Google, Slatkin uncovers little-known quirks and idioms that powerfully impact code behavior and performance. You'll understand the best way to accomplish key tasks so you can write code that's easier to understand, maintain, and improve.
In addition to even more advice, this new edition substantially revises all items from the first edition to reflect how best practices have evolved.
Мета теги: