Название:
Linux Bible, 9th Edition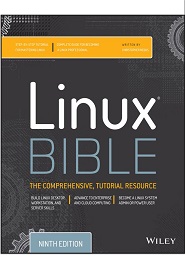 Автор: Christopher Negus
Год: 2015
Издательство: Wiley
ISBN: 978-1118999875
Страниц: 912
Language: English
Формат: PDF/EPUB
Размер: 25 Mb
Описание: Linux Bible, 9th Edition is the ultimate hands-on Linux user guide, whether you're a true beginner or a more advanced user navigating recent changes. This updated ninth edition covers the latest versions of Red Hat Enterprise Linux 7 (RHEL 7), Fedora 21, and Ubuntu 14.04 LTS, and includes new information on cloud computing and development with guidance on Openstack and Cloudforms. With a focus on RHEL 7, this practical guide gets you up to speed quickly on the new enhancements for enterprise-quality file systems, the new boot process and services management, firewalld, and the GNOME 3 desktop. Written by a Red Hat expert, this book provides the clear explanations and step-by-step instructions that demystify Linux and bring the new features seamlessly into your workflow.
This useful guide assumes a base of little or no Linux knowledge, and takes you step by step through what you need to know to get the job done.
Get Linux up and running quickly
Master basic operations and tackle more advanced tasks
Get up to date on the recent changes to Linux server system management
Bring Linux to the cloud using Openstack and Cloudforms
Linux Bible, 9th Edition is the one resource you need, and provides the hands-on training that gets you on track in a flash.
Мета теги:
9th Edition
Bible
Book Linux Bible
Linux
Linux Bible