Название:
PHP Pandas. The PHP Programming Language for Everyon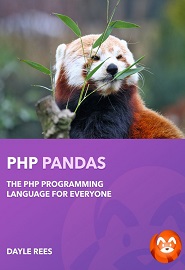 Автор: Dayle Rees
Год: 2015
Издательство: Leanpub
Страниц: 194
Language: English
Формат: PDF
Размер: 6 Mb
Описание: With PHP Pandas, I have decided to try something new. I wanted to write a PHP book that was accessible to everyone, from newcomers to the programming to developers looking to brush up their skills! My writing style is fun and approachable, and I promise that you'll have a good time reading PHP Pandas. I'd love for PHP Pandas to be the book for learning the PHP programming language. It's the first instalment in a series of books that I like to call "PHP for Everyone". A journey from humble beginnings, to building large scale PHP application. If you've got a will to learn PHP, and you don't want to stomach another flat and boring syntax book, then please give PHP Pandas a go! Don't take my word for it, go ahead and check out the sample! While this book is marked as complete, I'm happy to add more updates to the title to support future learning. Let me know if you feel that anything is missing! There will also be updates for future inclusions to the PHP programming language, and any other goodies that I can think of!
Мета теги:
Everyon
PHP Pandas. The PHP Programming Language for Everyon
The PHP Programming Language