Название:
The Joy of PHP: A Beginner's Guide to Programming Interactive Web Applications with PHP and mySQL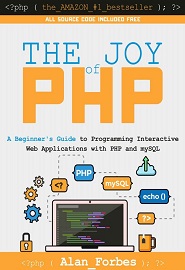 Автор: Alan Forbes
Год: 2012
Издательство: Plum Island Publishing LLC
Страниц: 180
Language: English
Формат: PDF
Размер: 10 Mb
Описание: How to program interactive web applications with PHP and mySQL— even if you've never programmed before. Have you ever wanted to design your own website or browser application but thought it would be too difficult or maybe just didn't know where to start? Have you found the amount of information on the Internet either too daunting or not geared for your skill set or worse— just plain boring? Are you interested in learning to program PHP and have some fun along the way? If so, then The Joy of PHP by Alan Forbes is the book for you!!
Мета теги:
A Beginner's Guide
Book The Joy of PHP: A Beginner's Guide to Programming Interactive Web Applications with PHP and mySQL
PHP and mySQL
Programming Interactive Web Applications
The Joy of PHP: A Beginner's Guide to Programming Interactive Web Applications with PHP and mySQL