Название:
Practical UML diagramming for real-time systems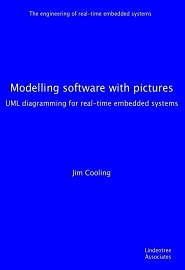 Автор: Jim Cooling
Год: 2015
Издательство: Lindentree Associates
ISBN: B010EAABLS
Страниц: 365
Language: English
Формат: PDF/EPUB
Размер: 23 Mb
Описание: This book sets out to show embedded software engineers how to model their designs using diagrams in an effective, clear and useful way. A key aspect in all of this is the sensible application of a set of diagrams defined within the Unified Modelling Language (UML) standard. It is aimed at those designing — or who intend to design — software for real-time embedded systems (RTESs). The content of this book falls into two quite distinct categories. The first, covered by chapters 1 to 3, is a 'selling' mission, to try to make you understand why it really is a good idea to use modelling methods in your designs. The next set of chapters is organized on a model-by-model basis. The diagrams described are those that we have found to be especially useful in the development of RTESs. This isn't limited to just the syntax and semantic aspects (such information is widely available) but also tries to show how and why such diagrams are used. Rounding things off is chapter 9, 'Practical diagramming issues'. This is especially important as it provides practical guidance on using UML diagrams for the design and development of real-time systems.
Мета теги:
Book Modelling software with pictures: Practical UML diagramming for real-time systems
Modelling software with pictures
Modelling software with pictures: Practical UML diagramming for real-time systems
Practical UML diagramming for real-time systems